Photo by Innerbody Research
Promescent has grown from a purveyor of Delay Spray to a one-stop-shop for a slew of sexual products. Their offerings should appeal to anyone looking to improve performance and increase pleasure, and their prices are hard to beat.
Special Offer:
Get $5 off using coupon code
INNER5
Delay Spray effectively helps men last longer during sex

Free shipping available throughout the US for any order over $10

Lidocaine (the active numbing agent) is very safe

Most products are made in the USA

High-quality lubricants available for those with silicone allergies

Bundling can save you up to 12%, and our readers get $5 off any order of $30 or more — use coupon code: INNER5
Some scents may be too intense for sensitive users

No free trial opportunities

Lack of toys designed for anal use
Premature ejaculation (PE) is far more common than you might think, affecting anywhere from 20-33% of men nationwide. Seeking help for this clinical diagnosis — or even seeing the diagnosis itself — can be an experience in which men feel shame, embarrassment, or anxiety. And many men who might not qualify for the clinical diagnosis of premature ejaculation would certainly still want to last longer in bed.
With telehealth services expanding rapidly, many men are enjoying new, much more convenient and discreet methods of tending to their sexual health without leaving the house. Promescent offers a handful of these convenient services, including the company's most famous product, the Delay Spray to help with PE. In addition, they provide access to other sexual health products — all delivered straight to your door.
Is Promescent a good value? Does their PE spray work, and is it safe? We thoroughly tested Promescent and reviewed all of the related scientific literature so you can decide whether to give them a try.
How we evaluated Promescent
Effectiveness
Rating: 9.0/10
Promescent offers a large selection of products, from delay spray and condoms to massage oils. To measure their effectiveness, we primarily focused on their delay spray, both because it's their most popular product and because its efficacy is the aspect of the company about which most people are curious. And it does work. We found that the numbing sensation of the delay spray was strong enough to extend sexual performance but subtle enough to allow the experience to be gratifying for both partners.
Safety
Rating: 8.8/10
So long as you use them as instructed, all of the products that Promescent offers should be safe. They offer a cleaning solution for sex toys that we highly recommend you use. Their delay spray absorbs nicely with minimal rubbing and about a 15-minute wait. You can also wipe away any excess you might see to avoid spreading the solution to your partner. And because the solution uses lidocaine instead of benzocaine, it's less likely to cause an allergic reaction. Promescent Delay Spray is FDA-approved.
Cost
Rating: 8.2/10
Considering the effectiveness of their delay spray, Promescent offers competitive prices compared to their closest competitors. Some of the other products on their site — notably the toys — either match the best prices you could get elsewhere or exceed them by only a few dollars. The best part of Promescent's pricing is their custom bundling structure, which allows you to buy various goods and get an increasingly significant discount with every item you add to the order for up to 12% off.
Here's a quick breakdown of the Delay Spray packages that Promescent offers:
Customer care
Rating 7.8/10
Promescent's customer care is good, but other companies in this space go the extra mile to employ a consistent bank of phone operators and respond to email inquiries a bit faster. One of the best aspects of their customer care is their warranty. With products like the delay spray, you can use them for up to 60 days and still ask for and receive a refund. That doesn't apply to toys and a few other intimate products unless they have clearly never been opened.
Why you should trust us
At Innerbody Research, we extensively test each health service we review, including Promescent. All told, our team has spent over 58 hours testing and researching Promescent products and competing products to provide an accurate, unbiased analysis of how they compare, free of marketing jargon and gimmicks.
Over the past two decades, Innerbody Research has helped tens of millions of readers make more informed decisions to live healthier lifestyles. We evaluate the service based on adherence to quality, the latest medical evidence and health standards, and a simple question: would we buy the product or service ourselves if it weren't part of our job, and would we recommend it to family and friends?
Additionally, like all health-related content on this website, this guide was thoroughly vetted by one or more members of our Medical Review Board for accuracy.
What is a delay spray?
Delay spray is a product that seeks to desensitize the nerves in the penis without completely numbing them. It does this by applying a topical anesthetic in spray form that absorbs into the skin after about 10-15 minutes. The result is just strong enough to allow a man to last longer during sex without detracting from his sense of pleasure.
Promescent Delay Spray unboxing and video review
For those in a hurry, this video summarizes what our testing team found. We'll also show you how the product arrives at your door.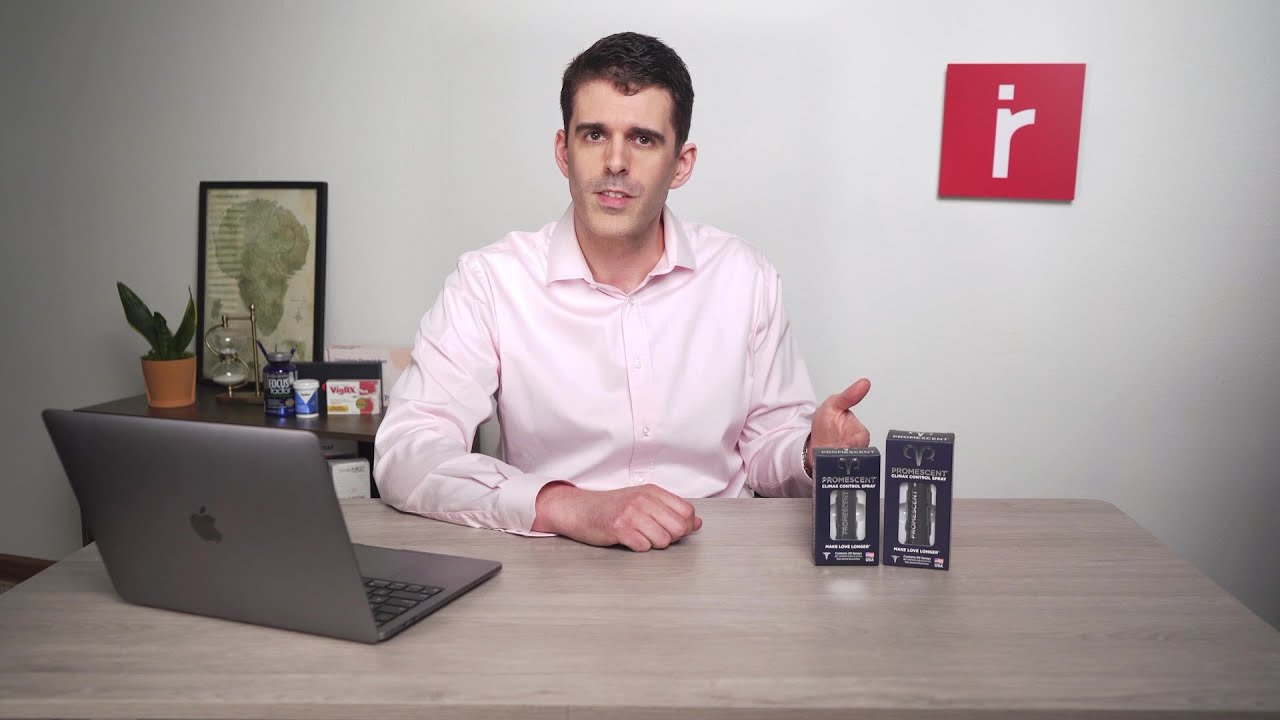 Fuller details are below for digging deeper.
What does Promescent do?
Promescent provides convenient and discreet access to sexual health and personal care products:
Promescent Delay Spray
Delay Wipes
Condoms
Lubricants
Toys
Supplements
Massage oils
The product most people associate with Promescent is their Delay Spray. Before Dr. Ronald Gilbert created it, the options available for men to delay ejaculation were limited and far from ideal. They involved either topical substances that numbed both the man and his partner, or prescription pharmaceuticals that posed potential side effects and that men had to take as long as they were sexually active.
Promescent Delay Spray, by contrast, involves no prescription or risky chemicals and is designed so that it absorbs completely into the man. It doesn't transfer to his partner.
Promescent continues to branch out, more recently adding a selection of toys and massage oils to a growing list of products. Ordering from Promescent is straightforward and secure, as well. Packages arrive with discreet labeling, though your credit card statement will say Promescent on it. The company benefits from a large and impressive medical review board of experts in urology, sexual health, and psychology.
Does Promescent Delay Spray work?
Sexual health products aimed at enhancing your experience in the bedroom understandably breed skepticism, but Promescent delay spray undeniably works. Promescent effectively desensitizes the penis without making it completely numb. The result is pleasurable intercourse that lasts longer, thanks to a slightly blunted sensation.
Promescent spray is the only spray in North America subject to an IRB-certified clinical study that demonstrated significant proof of its effectiveness. That study showed that about 64% of men who used Promescent Delay Spray reported longer, more pleasurable sex. Our testers concur, finding that it provided a desensitizing effect that wasn't too strong and lasted 30-45 minutes.
How does the Promescent spray work?
Promescent Delay Spray works by slightly numbing the nerves in your penis before sex. It does this with the help of a local anesthetic called lidocaine, which effectively shuts down nerve cells' ability to communicate sensations to the brain. If lidocaine sounds familiar to you, it's because you may have seen or used products with lidocaine for sore throat, bug bites, sunburn, poison ivy, and other irritants.
Dr. Gilbert's creation of Delay Spray involved a beneficial innovation: he changed the fundamental composition of lidocaine from a crystalline structure to an oil-aqueous structure (i.e., a liquid). He called his formula "TargetZone™ Technology." It offers faster absorption into the penis and a significantly decreased risk of spreading the numbing agent to your partner or another part of your body.
It may take a few tries to find the correct number of sprays to provide you with effective desensitization. Our testers experienced an appropriate amount of desensitization with an average of three sprays.
How much does Promescent spray cost?
Promescent offers their Delay Spray in two bottle sizes and prices:
20-spray bottle: $22.95
60-spray bottle: $59.95
As you can see, the best value is the 60-spray bottle, and because the product has a long shelf life, you're sure to get more of it per dollar.
Photo by Innerbody Research
In addition to single-bottle orders, Promescent offers their spray in larger multi-bottle packages, saving you more money per ounce of the spray. And additionally, for any order costing $30 or more, you can get a $5 discount if you use our coupon code (INNER5).
Home and Away
One of Promescent's more popular bundles, Home and Away contains a large bottle for your bedroom along with a smaller, pocket-sized travel bottle, sold together for $73.95.
The Threesome
Once you discover that the spray works for you, a The Threesome package like this makes lots of sense: three 60-spray bottles for $159.95. You save 11%, which amounts to $20, on this deal compared to buying three bottles separately.
Never Without
If you'd rather keep your Promescent use as discreet as possible, the Never Without package provides you with three of the company's small 20-spray bottles for $61.95. That saves you just under $7 compared to buying three bottles separately.
The Six Pack
Promescent's largest spray package contains three 60-spray bottles along with three travel-size bottles for $199.95. It represents the largest savings opportunity (20%, or $50), and The Six Pack has the best cost per spray at just $0.83.
Is Promescent safe?
The active ingredient in Promescent is lidocaine, which doctors and dentists regularly rely on as a local anesthetic. The medical version of lidocaine spray is significantly more potent than the formula found in Promescent, and that's by design. Medical lidocaine would provide too much numbing, inhibit your sense of pleasure, and increase what few risk factors are associated with the compound.
Who can benefit from Promescent spray?
Many men find that they climax sooner than they or their partners would prefer. This is the loose definition that many people use for premature ejaculation (PE), though some specify that clinically diagnosed PE refers to the inability to delay orgasm longer than one minute into sexual activity.
On average, men tend to reach orgasm in about five minutes during sexual intercourse. Meanwhile, women achieve orgasm, on average, in closer to 18 minutes. This disparity contributes to the "orgasm gap" — men achieving orgasms more frequently than women during sexual activity. Men don't last nearly as long on average as the typical woman requires to achieve orgasm.
So any man who finds that he finishes before -- and more often than -- his partner could benefit from a delay spray. It doesn't mean he has a problem with premature ejaculation. If anything, it's a sign of respect for his partner and a desire to see them as fulfilled as he is.
The only men who should avoid Promescent are those who have allergies to lidocaine or any other anesthetic in the amide group or whose partners may also be allergic. Anesthetics in the amide group include:
Lidocaine
Bupivacaine
Ropivacaine
Septocaine
Carbocaine
Prilocaine
A lidocaine allergy doesn't necessarily imply a benzocaine allergy. Benzocaine is part of a different anesthetic group, and people with an allergy to one can often tolerate the other. If you are allergic to an anesthetic from the amide group, you can still try Promescent's Delay Wipes, which utilize benzocaine.
Promescent FAQs
Promescent's other sexual health products
In addition to their Delay Spray that helps men last longer during sex, Promescent offers an array of other sexual health products. And don't forget, if you order $30 or more of any product or combination of products, Promescent will reduce your price by $5 with our coupon code INNER5.
Promescent Delay Wipes
Some men find the application of any delay spray to be slightly cumbersome or messy. Others may not anticipate the need to have their bottle on them at all times or be comfortable with it in their pocket for a night out. Those men would do well to consider Promescent's Delay Wipes ($19.95 for five, $39.99 for 15). These are pre-moistened towelettes containing benzocaine, an analgesic compound similar to the lidocaine in the Delay Spray.
There's a convenience factor with these individually wrapped wipes, but Promescent clearly states that their Delay Wipes are less effective than their spray. If you find that just one or two shots of the delay spray are sufficient and you're interested in trying the wipes, they might be strong enough for you. Just keep in mind that they do end up costing more per use than the spray does.
Condoms
Promescent sells their own line of latex condoms. They offer ultra-thin and ribbed options, in addition to a variety pack that includes an equal quantity of both types. Pricing starts at $9.95 for a box of 12. The condoms currently do not come in different sizes; they measure about seven inches in length.
You can also purchase Promescent condoms in a 36-pack for $15.95 or a 108-pack for $24.95.
Lubricants
You have several options for high-quality lubricants at Promescent. All of them are paraben-free and pH-balanced for safety and health reasons. People who are allergic to silicone should refrain from using Promescent's Silicone Lubricant or Warming Female Arousal Gel, but thankfully there are also water-based and organic lubricant options available. The organic lubricant is aloe-based and glycerin-free, and the Buzzing Female Arousal Gel is oil-based.
Warming Female Arousal Gel ($19.95)
Water Lube ($8.99 or $12.99)
Organic Aloe Lube ($9.49)
Silicone Lube ($12.99 or $18.99)
Buzzing Female Arousal Gel ($19.95)
Not all companies are as dedicated to providing lubricants friendly to people with allergies and skin sensitivities; these are high-quality products. If sex in the shower is your thing — and you can tolerate silicone — then the Silicone Lube is your best bet.
Toys
Promescent hasn't gone into the business of manufacturing their own line of sex toys just yet, but they have become a small shop for an array of fun and useful products. These include:
Vibrators
Male masturbators
Stamina trainers
Penis rings
Clitoral stimulators
From a pricing standpoint, Promescent offers these products from reliable brands, but without any significant discount. You can find many of them for similar prices elsewhere. The difference here is that you can rely on Promescent to ship these devices to you with the utmost discretion.
Supplements
Promescent's VitaFLUX supplement comes in a formula for men or women. The company sells it in a 30-day supply of 180 pills. Taking three in the morning and three in the evening can potentially improve cardiovascular and sexual health by boosting nitric oxide levels and decreasing blood pressure.
The supplement contains:
L-Arginine 2000 mg
L-Citrulline 1000 mg
L-Carnitine Tartrate 1000 mg
Zinc 10.5 mg
Magnesium 64 mg
In a Promescent-sponsored study, men and women reported satisfaction and improved sexual experience. Men reported experiencing stronger and longer-lasting erections, while women reported better natural vaginal lubrication as well as better orgasms.
It's always a good idea to talk with your doctor before incorporating a new supplement into your regimen. You should speak with a doctor if you:
take nitrates for cardiovascular reasons
take blood pressure medication
take erectile dysfunction medication
Massage oils
Massage can be a tool for relaxation and healing, but it can also serve as an outstanding lead-in to foreplay. Promescent offers four massage oils, each of which costs $14.95 for a 4 fl oz bottle. They're baby safe, so they should be comfortable to use for most skin types, and they come in the following scents:
Lavender
Vanilla
Coconut lime
Peppermint eucalyptus
Before and After Wipes
Promescent's Before and After Wipes are a convenient and useful hygienic product aiming to clean your genitalia before and after sex. Discreetly and individually packaged in a small pouch, they fit anywhere and are handy for quick clean-up no matter where you are. They're biodegradable, alcohol-free and pH-balanced, and safe for both men and women.
Bundles
One of the cool features of Promescent is that they encourage bundling of products into single shipments by offering discounts based on the size of the bundle.
One bundle is pre-defined: the SenseVibe bundle ($99.95): Promescent's Delay Spray and a dual-action vibrator from SenseVibe. But otherwise, a bundle contains whichever combination or products you want to include – lubricants, spray, supplements, condoms.
The bundling structure is as follows:
Two products: Save 3%
Three products: Save 5%
Four products: Save 7%
Five products: Save 10%
Six or more products: Save 12%
Promescent shipping, returns, and privacy
Shipping
For domestic orders, Promescent offers free USPS 3-5 day standard shipping on any order over $10 (the vast majority of orders). Orders below $10 will cost $3.99 in shipping.
You have options to expedite your shipment through FedEx for an extra shipping fee:
Overnight: $17.95
2-day: $7.95
If you're an international customer, here is how shipping will work:
For those in Canada: Most of the time, your order will ship 1-2 days after placing the order. It will ship via FedEx International Express, which takes 1-2 days to arrive and costs $9.95.
For international customers excluding Canada: FedEx International Express handles all shipments (Promescent pays all customs and duties). Shipping will cost $9.95-$14.95. Shipments generally will arrive in 2-4 days, though in some cases where the location is particularly remote or if there are strict customs inspections, your shipping time may be longer.
Returns
Some intimate items (like the female vibrator) are neither returnable nor refundable unless the product has never been opened.
Promescent offers a 60-day money-back refund policy for those who are dissatisfied with the products they ordered. The company reserves the right to deny refunds for products that malfunction due to misuse. To get the money credited back to you during a refund, you have to contact customerservice@promescent.com within 60 days of the original shipping date from Promescent.
Promescent does not refund any shipping fees.
Privacy considerations
All of your shipments arrive discreetly. There is no information on the outside of the package that would in any way identify the product. No brand, product, or company information whatsoever exists on the exterior.
This level of discretion is fundamental when ordering health products online but is particularly important with products of an intimate nature. You can rest assured that Promescent understands and will protect your privacy. That discretion doesn't entirely translate to your bank statement, however. There, charges from Promescent will bear the company's name, though they don't include any additional identifying information.
Promescent employs SSL encryption to protect your data. Still, they openly state that they may sell your usage data and use that information to improve their site functionality and marketing strategies.
Alternatives to Promescent
Promescent may have been the first company to offer an oil-aqueous lidocaine solution as a sexual desensitizer, but other companies have come along with similar products since then. There are also techniques and different approaches to tackling PE that may interest you.
Hims
Hims is a telehealth company that offers everything from sexual health products to talk therapy and hair loss treatments.
In addition to a delay spray that bears a strikingly similar formula to Promescent, Hims' boasts a network of doctors that makes it possible to acquire a prescription for a selective serotonin reuptake inhibitor. That class of drugs has proven effective in studies treating men with clinically diagnosed premature ejaculation. The downside is that it's something you have to keep taking, even when you aren't sexually active. And there are potential side effects that are far greater than those associated with lidocaine.
Our testers found that Hims Delay Spray doesn't pack the same punch as Promescent. For whatever reason, and despite pretty similar ingredient lists, the Hims spray doesn't provide quite enough desensitization, even after up to 10 sprays. If your PE issues are minor, and perhaps you're also looking to address ED or hair loss, Hims might be an all-in-one solution, but for men looking for a spray that offers significant value and performance, we still recommend Promescent. Read more about Hims in our comprehensive review.
VigRX
VigRX offers a benzocaine-based spray for an outlandishly low price. You'll get about ten times the quantity dollar-for-dollar compared to Promescent. Their spray works reliably, as well.
However, due to the use of benzocaine, there is a slightly higher chance that you could have an allergic reaction, as benzocaine allergies are more prevalent than lidocaine allergies. And the VigRX formula is noticeably thicker, so even with extensive rubbing, you'll likely have to wipe it off before you can safely begin intercourse.